Frozen Oobleck Treasure Blocks
The kids are going to LOVE this one as it combines 3 favourite things..... ICE, SENSORY PLAY and TREASURE HUNTING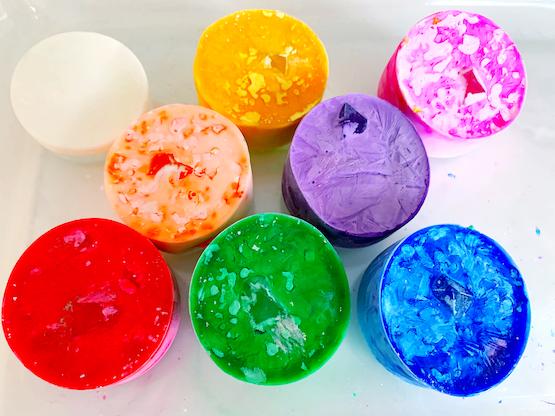 Instructions
2 cups cornflour
1 cup water
kids' paint
acrylic gems/ gold coins or similar toy treasure
Whisk together the cornflour and water until it resembles thin cream and has no lumps remaining. Pour it into a muffin tin or deep ice cube tray. Add a small squirt of paint to each section and stir until it is coloured. Now drop in a treasure to each!
Place it in the freezer and when ready, pop out each frozen oobleck block into a shallow tray or container. Now add water, pipettes and utensils and encourage your child to play with these as they melt back to a gooey goodness! What will they discover hiding as they play?!
Once the oobleck is back to rim temperature it will do its miraculous thing of being both a solid and a liquid, depending on how much pressure is applied to it. It's called a Non-Newtonian fluid and is totally fascinating to play with! 
Enjoy!