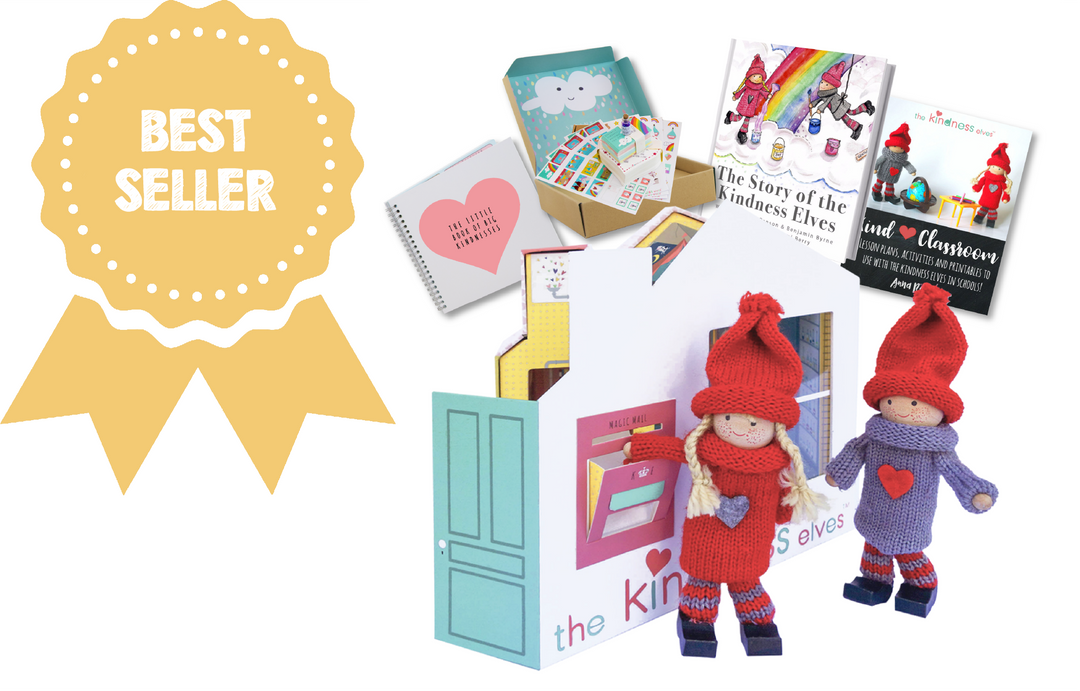 Classroom Bundle Pack 
Join thousands of other teachers in using our Kindness Elves resources to promote positivity, empathy and cooperation in the classroom, curriculum and school community. 
Let's make this world a kinder, more considerate and tolerant place, one classroom at a time! Let the Kindness Elves be part of the story by bringing the magic of kindness to everyday life at school!
Select your choice of clothes (6 different colours) and wood tones, light, dark or combination:
Light wood
= both light wood tone
Dark wood
= both dark wood tone
Combination v1
=  light tone girl + dark tone boy
Combination v2
= dark tone girl + light tone boy
[
NOTE:
This set is not a toy, and is not suitable for children under 36 months due to small parts]
I would recommend Kindness Elves for not only other teachers but for the entire school. I have been principal for the last two years at Blessed Sacrament School in Erie, Pennsylvania. I read a letter to all the students that the Kindness Elves were rumored to be in the building (a door appeared under the Kindness Tree) and would be watching for kind acts and leaving messages (suggestions on how to be kind during Advent) for us. 
It was a wonderful, kind, Advent season at our school! The Elves returned a few more times during the year: Kindness Week in January, Valentine's Week and Lent. Kindness needs to be taught and demonstrated. The Kindness Elves help us do just that.
I am jumping for joy to be getting ready to introduce year two to the Kindness Elves. My head is spinning with new ideas and exciting ways to keep Pop & Sparkle's magic and kindness potion alive throughout SouthLake Preschool. The kindness Elves and their magic create a sense of wonder and ignite children's imaginations. Students last year were very eager to sprinkle kindness on each other, our SouthLake Community, their families, people in our community and those in need. 
Can you imagine what could happen if all children were encouraged to spread kindness with the hope of making our world a more compassionate and loving place? That is my hope for our future world leaders.. Thank you Anna @ theimaginationtree.com for your vision, inspiration and commitment to inspiring children to spread kindness wherever they go!
Susie Sporre -
Preschool / Pre-K Teacher.
There's a room for creating the Acts of Kindness cards, and a room where they develop their Kindness potions.  On the bookshelf you might come across titles such as 'A Field Guide to Unicorns', and 'A Journey through Rainbows'.
There's even a working mailbox to send and receive Kindness Elf mail!  
The Story of the Kindness Elves
This beautiful hardback book tells the sweet story of where the Kindness Elves live, who they are and what they do all day. It explains how they first came to meet children and work together on acts of kindness as a team. 

The Story of the Kindness Elves introduces children to the joy that showing daily acts of kindness can bring, in whimsical and magical ways. 

Kind Classroom: A Teaching Resources ePack
Kind Classroom is an eBook packed full of helpful resources and printable materials for teachers using the Kindness Elves in their classrooms. The Kindness Elves are the perfect addition to the classroom setting as they make wonderful mascots and are encouragers of kind and caring behaviour towards others.
From circle time games focusing on self-esteem, bullying and helping others out to whole class secret agent projects that encourage kids to do things for others without them even noticing, this pack is full to the brim with inspiring ideas.
The Kindness Elves Accessories Pack
The Kindness Elves Accessories Kit is packed full of wonderful treasures to help bring the magic of the Kindness Elves to life in the classroom!
The Accessories Kit is not only packed full of amazing extra goodies to use with the Kindness Elves, it's also a great help for busy teachers. Let us do the work for you! 

- 50 Acts of Kindness Cards 
- The Little Book of Big Kindnesses 
- Mini Postcards for the Kindness Elves to write to the children 
- 8 Sheets of Stickers 
- Bottle of Magic Sprinkles